Episode 111: Detention (2011)
Detention (2011) Rundown
Detention (2011) is a pretty simple plot to follow, it's just your typical meta-horror/comedy about time traveling teens battling a serial killer dressed as their favorite movie character. Along the way is some mutations, body switching and magnetic bear mascot. Confused yet? Well then join the rest of us. Adam's brain has straight up shattered leaving Matt and Scott to pick up the slack and figure out what the fuck we watched this week on Horror Movie Night!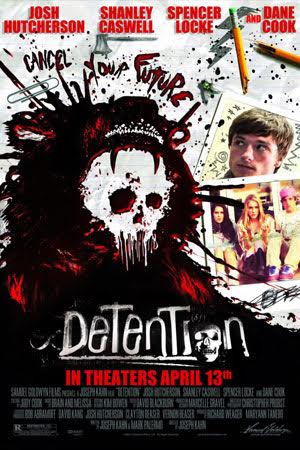 Directed by
Joseph Kahn
Produced by

Josh Hutcherson
MaryAnne Tanedo
Richard Weager

Written by
Joseph Kahn
Mark Palermo
Starring

Josh Hutcherson
Shanley Caswell
Spencer Locke
Aaron David Johnson
Walter Perez
Dane Cook

Music by
Brain & Melissa
Cinematography
Christopher Probst
Edited by
David Blackburn

Production
company

Detention Films, LLC

Distributed by
Sony Pictures

Release date

March 13, 2011 (SXSW)
April 13, 2012

Running time

93 minutes
Country
United States
Language
English
Budget
$10 million
More Films like Detention (2011) that Scott and Adam didn't like...
Whoever said that gamer nerds would never live through a horror movie? We're not sure either, but they were pretty spot with their predictions. This week, we are joined by the incredibly knowledgeable Liz Finnegan of The Escapist to discuss Frankie Muniz's agent's terrible decision-making skills and the unbelievable game mechanics In the 2005 video game ghost killer flick Stay Alive. Liz and Adam chew the pixelated fat over horror games while Matt and Scott try to keep up and not sound dumb. It's time for a good old fashioned LAN party, so bring the Doritos and Mountain Dew for this week's episode of Horror Movie Night! Oh, and the virgin blood for the ghost of Madam Bathory, how could we forget?
Do you like metal?? This movie may or may not be metal! It's not necessarily good metal, but yeah, the central theme is more or less "metal" - of course we're talking about 2015's NZ shredfest Deathgasm! You can tell the protagonist is totally metal by his Trivium posters... Super duper metal, guys. He realizes the whole town has figured out what a poser he is, so he summons a demon to steal everyone's souls and their ability to tell him he needs to practice more. Let's just say he's no Slumber Party Massacre II Driller Killer, all right? Get your corpse paint and nail gauntlets, we're heading out into the woods to shoot a lofi black metal video, because that's how we roll on Horror Movie Night!