Episode 100: The Monster Squad (1987)
Rundown
Dracula is alive. In fact, he plans to rule the world and that is why he seeks the help of other legendary monsters. However, a bunch of kids regarded by their peers as losers uncover the devious plan and prepare for a counter strike.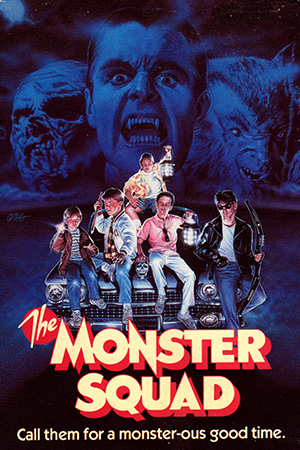 Quote of the Episode:
"I think this awakened something in me because Rudy is hot as fuck" - Adam
More Kids in Danger Films
We're on the cusp of Halloween Weekend 2k17, kids, so we scrounged up a truly terrifying tale of thaumiel trickery to assail your aural appendices, a story of one child's harrowing nightly encounters with Howie Mandel in his bedroom. That's right, we're talking 1989's Little Monsters! This isn't a good movie, but really, we don't associate ourselves with those kinds of movies anyway, and Howie's cocaine freakout performance pretty much fits right into our wheelhouse. Thrill to scenes of Mr. Mandel tempting fate to explode his heart and a child drink urine. It's all here on this Halloweekend episode of Horror Movie Night!
Post-apocalyptic blues got you down? What better way to cheer up than to hang out at the radio station blasting tunes and having a shopping spree at the mall?? Kelli Maroni just can't keep away from those places, and we tagged along with her in NIGHT OF THE COMET and brought the immortal J-Tro (Jason Trost) with us! We talk 80s culture, the dangers of nostalgia, and his upcoming sequel FP2: BEATS OF RAGE. If you haven't turned to piles of Tang already, hang out with us as we awkwardly attempt to repopulate Earth!
Happy Halloween from the HMN crew! As a special surprise, Matt forced Scott and Adam to watch one of his favorite Halloween films, Spaced Invaders. We don't want to spoil the fun, but Scott and Adam were less than pleased with this turn of events. Dust off your Martian bomber jacket and practice up on your best pop culture voice impressions, it's time to blow this turd up!