Episode 112: Street Trash (1987)
Street Trash (1987) Rundown
Thanks to multiple misguided emails about how amazing it is, we were forced to discuss the incredibly tasteless body melt pastel extravaganza Street Trash (1987). Matt and Adam took no heed of Scott's many warnings and now feel dirtier for having watched this pile of cinematic garbage. The director wanted to make something offensive to everyone and succeeded spectacularly... If you genuinely like this movie, please seek help. We'll be bathing in Purell and bleach - join us, why don't you, this week on Horror Movie Night.
Street Trash (1987) Trailer
Street Trash (1987) Details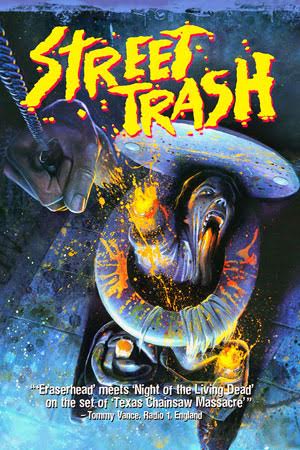 Directed by
J. Michael Muro
Produced by
Roy Frumkes
Written by
Roy Frumkes
Starring

Mike Lackey
R. L. Ryan
James Lorinz
Vic Noto

Music by
Rick Ulfik

Production
company

Street Trash Joint Venture
Lightning Pictures

Distributed by
Lightning Pictures

Release date

Running time

101 minutes
Country
United States
Language
English
WANT A PODCAST? LOOKIN FOR COMPANY? LIKE CAPS LOCK? HOW ABOUT 1990'S FRANKENHOOKER? This week, the guys get elbow deep in giant crack rocks and purple goo, and discuss Matt's romantic evening plans, Adam's scientific proclivities, and Scott's ongoing obsession with head explosions. Got any money? It's Horror Movie Night!
The masses have spoken, and we have answered: we bestow upon you a parable of prolonged police persecution in the bustling beaurocracy of the burgeoning Big Apple, also known as 1988's Maniac Cop! Highlights are Bruce Campbell and the lady cop's undercover prostitute hair; definitely not the plot. Cross the thin blue line, thrill me and borrow your cellmate's shank, it's Horror Movie Night!
If the creeping dread of another Cold War hasn't quite hit you yet, the HMN boys will get you there with 1983's low budget, killer-alien-in-a-meteorite The Deadly Spawn! This homage (well, more pastiche, really) to the alien monster heyday of the 1950s spent all of its money on creature effects (which are awesome, despite what Adam may think) and then hired people off the street to get eaten by weird hungry tadpoles. Don't go in your swampy, disgusting basement, cuz it's Horror Movie Night, comrade!