Episode 117: Prince of Darkness (1987)
Prince of Darkness Rundown
Adam is MIA so Scott and Matt are forced to tackle John Carpenter's end of the world obsession on our own. We discuss 1987's Prince of Darkness until one of us ends up trapped in a mirror world with Alice Cooper and the Devil. You can only know which one of us gets sacrificed by listening to this week's Horror Movie Night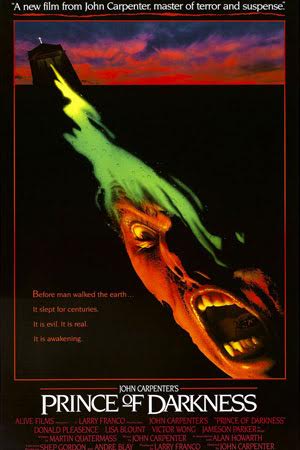 Quote of the Episode:
"it's like John Carpenter read the Abstract of String Theory Paper and was like 'okay I got it'" - Scott
More End of the World Films
It seems so many horror movies are kicked off with a mistake - smacking an old bucket full of zombie chemicals... letting a disfigured boy drown while you're dry-humping... watching CURSE lll: BLOOD SACRIFICE... Tale as old as time, amirite? This boring drama-with-two-quick-shots-of-a-sea-monster-in-the-last-3-minutes boasts Christopher Lee's terrible lower teeth, a surprising level of racism for a movie released in 1991, and an even more surprising lack of rubber suit monster for a movie that ostensibly got made due to the moderate success of Screaming Mad George's awesome Curse ll: The Bite. This is easily the most boring movie we've ever discussed on the show, but we somehow manage to enjoy each other company while ripping it apart. Travel back in time to apartheid South Africa and horrible racist stereotype with your hosts on this week's episode of Horror Movie Night!
Life was simpler in the 80s; kids only wanted to dress up as one of 3 things for Halloween: a witch, a skeleton, or a jack-o-lantern. Men were men, drinking from flasks while doing doctor things, or while driving, or while seducing the daughters of dead guys they're investigating, or while Irish warlocks with British accents use Stonehenge dust to turn every costume into a murder death ray party in order to sacrifice America's children to the old gods. Or whatever. You get the idea, we're talking 1983's Halloween 3: Season of the Witch for week 3 of our month-long Halloween celebration! There's no Michael Myers to stalk us, but thankfully Tom Adkins steps in to fill the creepiness factor with his thirst for liquor and vulnerable young women. Join us as we incessantly mumble the Silver Shamrock song until mid-November because dammit that song is like brain herpes.