Episode 136: Death Spa (1989)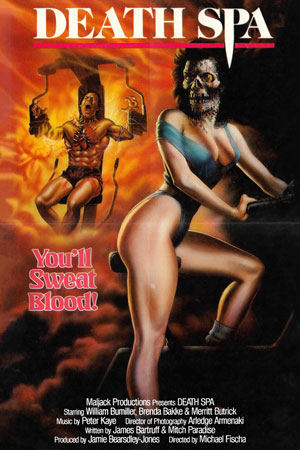 Quote of the Episode:
"We're gonna get our pec juices pumping" - Matt
We may not all agree on wrestling and its entertainment value as an art form on this show, but we sure as hell agree that Netflix's GLOW was damn good television, and have been eagerly waiting for season 2 to drop. In preparation, Scott finally unleashed the most bloodless, tame pick ever on Matt and Brian, featuring some of the actual Gorgeous Ladies of Wrestling in starring roles, 1989's Slashdance! While it's not a good film by any measure, and the weakest aerobics killer movie we've ever seen, there is a certain charm to it, and by its actresses' pedigree alone worth talking about. The budget didn't cover live goldfish, so there was likely no coke on hand for the writing, filming or editing of Slashdance, and what's left is a serviceable made-for-tv cop drama cut into 40 minutes of dance rehearsals. Let's get in shape and possibly choke someone with their own lasso while they sing You Are My Sunshine because really, these auditions ain't cuttin it for Horror Movie Night!
It's the day after Thanksgiving and everyone is feeling fat and terrible from all of yesterday's overindulgence, so fire up the boombox, pull on your loudest spandex onesie and let's sweat the evil out with 1987's Killer Workout (aka Aerobicide)! Scott counts the gratuitous dance sequences (with time stamps, you're welcome), Matt feels the burn, and Adam picks the most ridiculous slasher weapon ever. It's a wonder there was any coke left on Earth after the filming of Killer Workout, and if you haven't watched this one yet, you'll understand soon enough. Build your own dadbod with us this week on Horror Movie Night!
Life got you down? Can't seem to get ahead at work? Girlfriend not letting you commit vehicular homicide as often as you'd like? Dweeb at the gym getting in the way of your regular regimen of benchpressing, karate and cigarettes? If everything is stressin' you out, man, Uncle Llyodie's got a present for you - the HMN boys are bringing you their sludge-covered two cents on Troma's 1986 B-grade masterpiece The Toxic Avenger! The guys are decked out in their best sissy stuff and are ready for some action in the locker room, join them and get slimed on another episode of Horror Movie Night!