Episode 138: Killer Party (1986)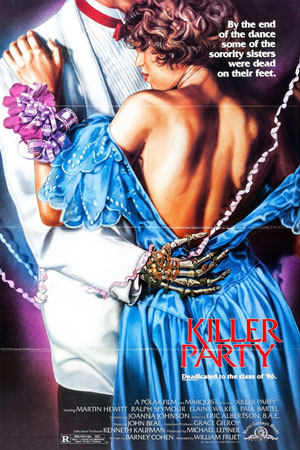 Quote of the Episode:
"Where? There? Where? There? and I'm like who's on 3rd Base" - Scott
More Obscure 80's Slasher Films
If there's one thing we love on this show, it's John Waters and killer clowns. Wait, that's 2 things. I guess you could say we hate math here too. In any case, we are tackling the fantastic and tragically forgotten OUT OF THE DARK (1989), which prominently features a clown-masked phone sex pervert, Divine's last film before passing away, and a totally unrealistic photo-shoot replete with fog machine and seizure-inducing freeze frames. It's even better than it sounds, and we want to...shed some light on the darkness surrounding this piece of cinema. Save up your quarters and grab some tissues, this week we're dialing 1-800-HMN-BOIS
Everyone knows that the death penalty is far more expensive and arguably more inhumane than life imprisonment, even if their murder-boners try to say otherwise. For-profit prisons are an abomination, and your hosts are here to show you what happens in them with a documentary film from 1988 called DESTROYER! In this totally-real-not-fantasy film, a convicted murderer doesn't die by electric chair, but just gets really swole and sweaty. He also really likes eating human hair, so take that as you will. We've talked Shocker and The Horror Show, it's time for the third installment of our electricity killer series, let's get buzzed!
Ah, Valentine's Day... The day you wait all year for to show your significant other you give a shit about them. Forget the other 364 days, you only have to do something nice this one time and then you can go back to be a slob for another year. Or you could kill your sweetheart's childhood crush, go to med school and become a doctor, then stalk her again as an adult with the intent of removing her heart for some odd reason. At least that's the killer's plan in the mediocre 1981 Barbi Benton vehicle X-Ray (aka Hospital Massacre). We're not sure of the details, but we think Barbi Benton wanted to try her hand at acting after her stint as a Playboy Bunny and girlfriend to Hugh Hefner (before he transformed into the Crypt Keeper), and Cannon Films was more than happy to oblige her. The ironic part is that Barbi is fully-clothed through the vast majority of this snoozefest, and spends her screen time scowling at literally everyone. Who did the wheezing killer better, X-Ray or Student Bodies? Find out this week on Horror Movie Night!