Episode 231: The Fly II (1989)
Rundown
Another week, another questionable sequel, but at least we get some sick special effects from Chris Walas in the form of his directorial debut, THE FLY 2 (1989)! We are joined by another Chris this week, Chris Fafalios of the band Punchline and new podcast ONE HIT THUNDERS. You may remember Chris from our Ice Cream Man episode, so he knew what to expect this time around, and he got it in the form of body horror, mutated golden retrievers, and a nice serving of head trauma. It's no Gremlins, but this one gets way too much hate for what it is, and we're here to tell you all about it on Horror Movie Night!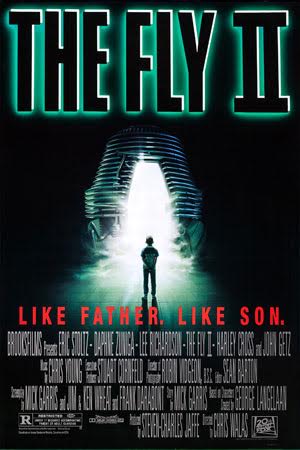 Quote of the Episode:
"I get to talk about Music with a lot of cool people and that is one of my favorite things to talk about, I mean, I really like talking about movies like The Fly II and Ice Cream Man, but Music is kinda my thing that I like a whole lot." - Chris Fafalios
We see a lot of amazing creature designs and practical effects on HMN, so sometimes it's nice to take a step back and see our SFX heroes' humble beginnings...like the ridiculously dumb Rick Baker monstrosity, OCTAMAN (1971)! More or less a lower-budget, less skilled retelling of the Creature From the Black Lagoon (written by the same guy), this one is 100% due to its moment of glory in Gremlins 2: The New Batch, so thanks for that, Brian. Between the three of us, we only have 6 arms to fight Octaman's 8, wish us luck!
On another installment of "It's A Movie," your boys at HMN hit the beach and bring home some blood-thirsty mutant babies with Larry Cohen's classic (?) IT'S ALIVE 3: ISLAND OF THE ALIVE (1987). There's a whole lot of Michael Moriarty chewing scenery, some stop-motion really doing it for Matt, and some real Troma-esque rubber suit fighting under the pier near the end. It's got everything a summer blockbuster needs....right? Squeeze out some sunscreen for us so we don't get burned any more than we already did with this week's pick on Horror Movie Night!
Why are there no porn plots where a busty lady has a rodent problem and calls an exterminator to clean up, and then when he's done and showing her a giant rat he killed, she pays him in sexual favors? If any aspiring directors out there are into this, you gotta get someone who gives 110% every second on screen like Brad Dourif does in 1990's Stephen King adaption GRAVEYARD SHIFT. These are our terms. In any case, it must suck to share screentime with a juggernaut like Dourif when you can barely remember your lines or what it sounds like when humans talk, and you can get a taste of that by watching everyone else in this film, as they are picked off by a gigantic rat/bat monster in delightfully gruesome ways. The Maine accents are pretty confusing, but there's still some meat left on the bone here, so clock in for your shift with Horror Movie Night!