Episode 234: Shock Treatment (1981)
Rundown
Your HMN hosts love their showtunes, and to prove it, we're spending a whole month talking nothing but horror musicals! The catalog is slim, but we'll make it work, so you won't find yourself bitchin' in the kitchen (or cryin' in the bedroom all night). Kicking it off, we're discussing SHOCK TREATMENT (1981), the sequel, we mean equal, to the much more well-known and beloved ROCKY HORROR PICTURE SHOW. Thank god we're men!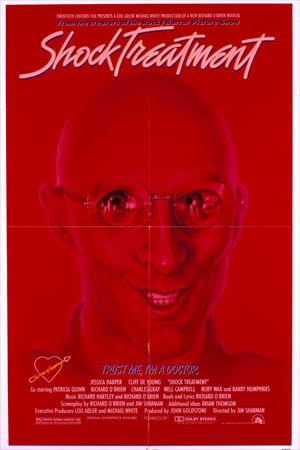 Quote of the Episode:
"I'll check off air... as I type online right now" - Brian
More Musical Horror Films
This week, the guys are digging an oldie but goodie out of the archives and watching from the rafters as their past selves discuss Brian De Palma's inimitable 1974 rock opera Phantom of the Paradise! If you've followed the show in any capacity, odds are you've heard this film brought up at least once, and here is the seed of HMN's collective obsession. Fall in love with Plain Jane, get your teeth knocked out, your voicebox smashed and your face horribly disfigured by a record press, then try to foil your abuser's sexy plot on this week's retroactive episode of Horror Movie Night!
We interrupt this month of heavy metal horror for a week of lighter fare, and while the title of this one implies there's rock music involved, it's basically synth and early 90s white boy rap, so you can guess which host was adamant about us discussing it (if you guessed Matt, you're right; if you didn't, you're definitely not paying attention to our show). In any case, we are talking the ironically-named ROCKULA from 1990, featuring extensive scene-stealing by the woman who sang Mickey (Toni Basil) and the guy who sang She Blinded Me With Science (Thomas Dolby). It's worth a watch if for only for the amazing arena rock ballad midway through, so give this episode a listen - it's your destiny!
Hey theater geeks, do you feel like you've been underrepresented in horror films? Do you demand to be killed off like the jocks that make your life miserable and the beautiful 27-year-old high school girls who won't give you the time of day? Then look no further than this week's pick, the sleek 2014 remake of Stage Fright! The guys are divided, as Matt and Scott were theater kids in their younger days and Adam was probably out smoking behind the school (or wherever kids go to do their tick-mutating marijuana cigarettes in Canada). There are spontaneous dance numbers, brutal murders, and some pretty obvious connections to Todd & the Book of Pure Evil. What more could you ask for? It's Horror Movie Night!