Episode 240: Tammy & the T-Rex (1993)
Rundown
It's the classic story: boy meets girl, boy gets his brain transplanted into a robotic t-rex, boy rips off a lot of heads, girl saves boy's brain from t-rex and then does a sexy dance as credits roll. TAMMY & THE T-REX truly has it all! If there's one thing Scott loves more than anything in horror movies, it's head trauma, so when Vinegar Syndrome announced its gore cut, you know it went right on the list. It's as nuts as it sounds and you NEED to watch it!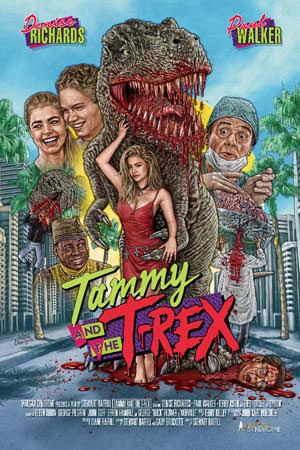 Quote of the Episode:
"There's nothing bad about this movie" - Scott
WANT A PODCAST? LOOKIN FOR COMPANY? LIKE CAPS LOCK? HOW ABOUT 1990'S FRANKENHOOKER? This week, the guys get elbow deep in giant crack rocks and purple goo, and discuss Matt's romantic evening plans, Adam's scientific proclivities, and Scott's ongoing obsession with head explosions. Got any money? It's Horror Movie Night!
Your HMN hosts love their showtunes, and to prove it, we're spending a whole month talking nothing but horror musicals! The catalog is slim, but we'll make it work, so you won't find yourself bitchin' in the kitchen (or cryin' in the bedroom all night). Kicking it off, we're discussing SHOCK TREATMENT (1981), the sequel, we mean equal, to the much more well-known and beloved ROCKY HORROR PICTURE SHOW. Thank god we're men!
Another week, another questionable sequel, but at least we get some sick special effects from Chris Walas in the form of his directorial debut, THE FLY 2 (1989)! We are joined by another Chris this week, Chris Fafalios of the band Punchline and new podcast ONE HIT THUNDERS. You may remember Chris from our Ice Cream Man episode, so he knew what to expect this time around, and he got it in the form of body horror, mutated golden retrievers, and a nice serving of head trauma. It's no Gremlins, but this one gets way too much hate for what it is, and we're here to tell you all about it on Horror Movie Night!