Episode 244: Alligator II: The Mutation (1991)
Rundown
You flushed it, but this shit came back for more... See, we should be the ones writing taglines for mediocre sequels to beloved b-horror movies! It's another Matt pick, so of course he went for a killer animal movie, and since we've already done ALLIGATOR (1980), he chose ALLIGATOR II: THE MUTATATION (1991). This meh retread of the first film lacks the charm of the original, but it gave us a chance to think back fondly on how good its source material was. The movie might not be memorable, but our discussion is, since we have our boy Kyle Kuchta on to keep the cold-blooded comedy flowing!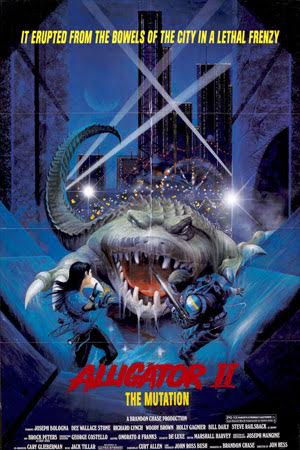 Quote of the Episode:
"Matt only picked this to talk about Alligator" - Scott
In Matt's continuing efforts to make his friends watch questionable giant killer animal movies, he has chosen THE LAST SHARK from 1981 to punish Brian and Scott with this week, and hoo boy. This film was such a blatant JAWS ripoff, that it was pulled from US theaters, which would've inadvertently saved dozens of people from wasting their time and money on watching it in 1981. But thanks to the digital age, here we are, wasting time and money watching and discussing a movie where a rubber shark drags an entire helicopter into the ocean. Summer's almost over, and so is your chance to get that beach bod toned up by a few chomps from a Great White!
You ever watch a movie where someone's hand is mutating into a crazy snake monster and just think to yourself, "dude shouldn't have jacked it so much..."? No? Well this week you may find yourself thinking just that as we wrap ourselves around the sequel-in-name-only Curse 2: The Bite (1989). Screaming Mad George isn't a guest on this episode, but Matt does his best impression of him and if you close your eyes and dip your hand in a bowl of room-temperature KY, it feels like he's really there! Bring your weird Amish accent and terrible singing voice, we'll be downing all the fly-beers we can stomach on this week's Horror Movie Night!
Let's travel back to the gilded age of big hair, clock radio bombs and world-class pillow talk... no, not the 1980s, just the time we talked about 1980s killer pet flick ALLIGATOR! We've referenced this discussion enough that it finally warrants its own retroactive episode. Matt's love of this movie (and fear of dressing up as a pirate to pool parties) is infectious and his lines are smooth. Give it up on your childhood bed for this retroactive episode of Horror Movie Night!