Episode 247: Piranha II - The Spawning (1981)
Rundown
Just when you thought it was safe to have scuba sex in a sunken cargo ship...If last week's discussion didn't get you wet, this week's might - along with chomping on your soft throatie bits because we're talking flying mutant piranhas (seriously) with PIRANHA 2: THE SPAWNING! This film is touted by James "Avatar" Cameron as the best flying killer fish movie of all time, and we're not here to argue that claim. Death to pescatarians!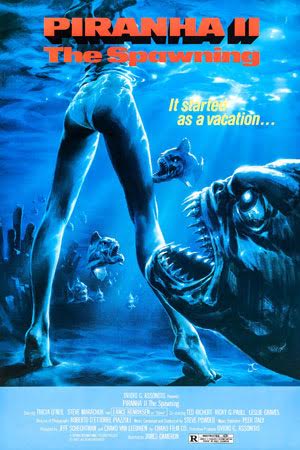 Quote of the Episode:
"I loved the cover art" - Scott
You flushed it, but this shit came back for more... See, we should be the ones writing taglines for mediocre sequels to beloved b-horror movies! It's another Matt pick, so of course he went for a killer animal movie, and since we've already done ALLIGATOR (1980), he chose ALLIGATOR II: THE MUTATATION (1991). This meh retread of the first film lacks the charm of the original, but it gave us a chance to think back fondly on how good its source material was. The movie might not be memorable, but our discussion is, since we have our boy Kyle Kuchta on to keep the cold-blooded comedy flowing!
Some people are scared of serial killers, some of ghosts, even others of aliens that steal your head (The Borrower is so underrated). But what about the people who fear a much more common antagonist? What if you have ARACHNOPHOBIA? Well, first you invite Julian Sands over as bait, then you get John Goodman to help clean up the murderous pests while suggesting house repairs. This one made your hosts feel a little itchy, hopefully you feel it too. We just wanted to share in the bother!
It looks like Brian's movie pick intervention worked, because he chose a real banger this week: the forced-perspective gory goodness of GNAW: FOOD OF THE GODS 2 (1989)! If you've ever wanted to see a young boy swear a bunch in the first 5 minutes of a movie, now's your chance... You also get to see some people bang on a bed of arugula, synchronized swimming, and a naked man-ass chase scene. By golly, GNAW's got everything!