Episode 253: From Dusk Til Dawn (1996)
Rundown
We know how many of you foot fetishists listen to our show, and we want to support your kinks, so here's a Tarantino movie about hot vampires feeding you toe-quila, you dirty pervs. That's right, Scott of all people picked the one and only FROM DUSK TILL DAWN (1996) for the boys to discuss this week. Someone tweet at Savini and tell him we respect him as an ac-torr. Well, don't actually do that.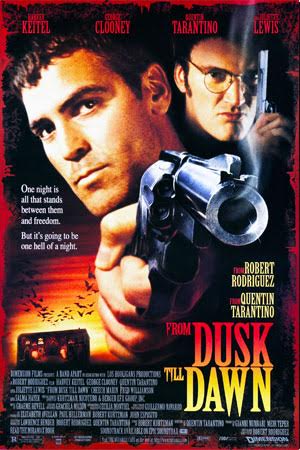 Quote of the Episode:
"I hate the way Tarantino writes" - Scott
Any other year, we would be knee deep in corsages, tulle, hairspray and prophylactics right about now (aka prom season), but a pandemic can be a real cockblock. So, to either soothe or further irritate that disappointment, we're talking a great prom-ish flick, BUFFY THE VAMPIRE SLAYER (1993). This movie really needs no introduction, so just listen to the episode and quote along with us!
Hey creeps, we had such a good time with Listener Submitted Month that we decided to extend it by a week, and boy do we regret this decision! Uwe Boll is never a good choice, but 2005's BLOODRAYNE is a special kind of banality that only an all-star cast and a couple pounds of ketamine can provide. Watch in amazement as Billy Zane, Michael Madsen, Michelle Rodriguez, Meatloaf Aday, Michale Paré, Udo Kier, and freaking BEN KINGSLEY try to make sense of this godawful vampire flick based on the much cooler video game. For the love of all things unholy, the costume designer of this movie needs to have their skin flayed like Frank in Hellraiser for falling asleep at the sewing machine. God damn this movie sucks. Enjoy our pain on this week's episode of Horror Movie Night!
Picture this: you and your best bro (and the rich geek you talked into driving) are hanging out in a seedy strip club, trying to pick up a lady of the night to take back to the frat house for a party. Through the sea of writhing bodies, stale booze and impermeable shame, you see Grace Jones do the most inhuman, bloodless interpretive dance on stage. You must have her. Forget the hot girl you kissed in junior high! Grace Jones or GTFO! This is the plot of 1986's horror comedy Vamp, so turn off your brains and let the body fluids flow as the guys discuss vampire mythos, 80s racial stereotypes and poorly-pronounced stripper names - it's Horror Movie Night!