Episode 257: Child's Play 3 (1991)
Rundown
Just when you thought it was safe to recycle the plastic from a supernaturally-possessed doll with a creepy smile, surprise idiot! More Chucky! This week's victim is CHILD'S PLAY 3 (1991) - it's a killer toy movie, so of course Matt picked it. Brad Dourif gives it his all as usual, so we do our best to keep up!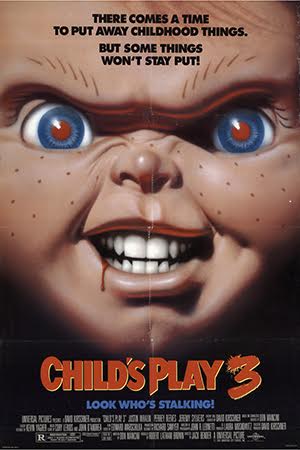 Quote of the Episode:
"That is a Jelly Doughnut" - Scott
Have you ever looked at a shark… in 3-D… on weeeeeed?? Well, today is your lucky day, as the boys are suffering through ANOTHER killer shark movie (thanks Matt), and their pain is your pleasure. JAWS 3-D (1983) is a serious pile of garbage, and we give it the dressing-down it deserves while working on our sexy tanlines. Don't be jealous, just grab the sunscreen and make sure to apply a healthy dose to our toned bodies.
You know you're from the Midwest when you're more disgusted watching a man eat a raw ear of corn like a goddamn savage than by the insane corn monster swallowing teenagers whole. Our 3rd listener submitted pick is CHILDREN OF THE CORN III: URBAN SACRIFICE (1995), and good lord is this movie good! This is 100% USDA organic HMN perfection in celluloid form, and we just can't say enough nice things about it. If you haven't seen it, THIS is the one that gets the show stamp of approval! Though we're left to wonder if Screaming Mad George has ever actually SEEN an ear of corn...
On another installment of "It's A Movie," your boys at HMN hit the beach and bring home some blood-thirsty mutant babies with Larry Cohen's classic (?) IT'S ALIVE 3: ISLAND OF THE ALIVE (1987). There's a whole lot of Michael Moriarty chewing scenery, some stop-motion really doing it for Matt, and some real Troma-esque rubber suit fighting under the pier near the end. It's got everything a summer blockbuster needs....right? Squeeze out some sunscreen for us so we don't get burned any more than we already did with this week's pick on Horror Movie Night!