Episode 260: Body Parts (1991)
Rundown
Another week, another tale of orphaned limbs and the trouble the little scamps can get themselves into! The Jeff Fahey/Brad Dourif double date known as BODY PARTS (1991) is an oddly-paced and just overall weird movie, so you know it generated some interesting conversation for your hosts. Who cares if it's summer, Jeff Fahey says it's TURTLENECK WEATHER!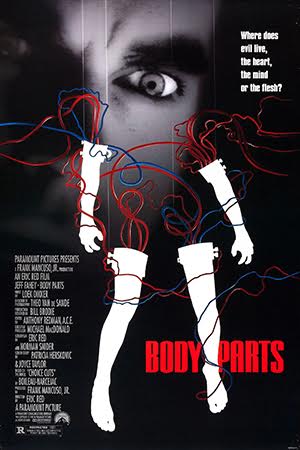 Quote of the Episode:
"It's like going to the Grocery Store when you're hungry and then being like 'Eh I could have done without that purchase'" - Scott
More Science Gone Wrong Films
Things we love: Jeffrey Combs, Frankenstein ripoffs, and ridiculous practical effects, so it seemed like it was time to get down on one knee for the over-the-top BRIDE OF RE-ANIMATOR (1990)! We had previously done a Patreon bonus about this movie, but it's so fun to watch and discuss, we had to revisit it for the main feed. As May's mom said, "if you can't find a friend, make one."
Matt has waited 5 years to finally discuss one of his all-time favorite movies on HMN, and his cohosts are more than happy to revisit the insane FREAKED (1993)! The Kelly boys grew up on this over-the-top Alex Winter monsterpiece, and Matt insisted Scott watch it almost as soon as the two of them got to know one another. Thanks to everyone who has enjoyed the show over the last 249 episodes, we can't wait to make you laugh, scream and groan for another 250!
Another week, another questionable sequel, but at least we get some sick special effects from Chris Walas in the form of his directorial debut, THE FLY 2 (1989)! We are joined by another Chris this week, Chris Fafalios of the band Punchline and new podcast ONE HIT THUNDERS. You may remember Chris from our Ice Cream Man episode, so he knew what to expect this time around, and he got it in the form of body horror, mutated golden retrievers, and a nice serving of head trauma. It's no Gremlins, but this one gets way too much hate for what it is, and we're here to tell you all about it on Horror Movie Night!