Episode 276: Jason Goes to Hell (1993)
Rundown
In typical HMN fashion, we decide to drop a Friday the 13th episode 2 weeks after a Friday the 13th, but it's ok because the franchise has barely made sense since the 4th installment and JASON GOES TO HELL (1993) barely has any Jason in it anyway. It may be Black Friday and you're still stuffed from Thanksgiving, but make some room for Jason's rotted heart special since it's not like you have a choice in the matter.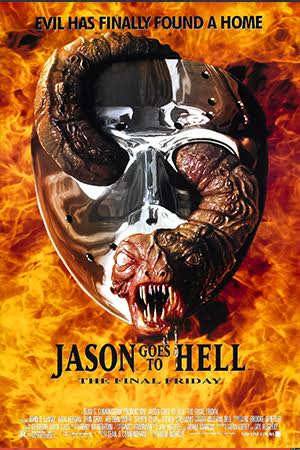 Quote of the Episode:
"I like that the possession is based on Baby Birding it" - Matt
More Sequels To Classic Films
It's no secret that Halloween is like Christmas for some of your HMN hosts (Matt's Christmas is literal Christmas, the little scamp) and this year, we're going back 2 decades to the millennium with a sequel/reboot that still holds up, 2000's HALLOWEEN H20! Purists may not fawn over this entry in the franchise, but ya bois at Horror Movie Night are big fans, so strap in for some praise for this less-obsessed-over installment that featured the return of Jamie Lee Curtis, as well as topical teen heartthrobs Josh Hartnett, Michelle Williams AND Jodi Lynn O'Keefe. Plus Joseph Gordon Levitt gets an ice skate to the face in the first 5 minutes!
Just when you thought it was safe to recycle the plastic from a supernaturally-possessed doll with a creepy smile, surprise idiot! More Chucky! This week's victim is CHILD'S PLAY 3 (1991) - it's a killer toy movie, so of course Matt picked it. Brad Dourif gives it his all as usual, so we do our best to keep up!
Have you ever looked at a shark… in 3-D… on weeeeeed?? Well, today is your lucky day, as the boys are suffering through ANOTHER killer shark movie (thanks Matt), and their pain is your pleasure. JAWS 3-D (1983) is a serious pile of garbage, and we give it the dressing-down it deserves while working on our sexy tanlines. Don't be jealous, just grab the sunscreen and make sure to apply a healthy dose to our toned bodies.