Episode 277: Intruder (1989)
Rundown
Somewhere in the late 80s, someone snorted so much blow that they got the insane idea to do a slasher in the most mundane setting they could think of: the grocery store. And it worked perfectly! INTRUDER (1989) is somehow a cult movie that never found its cult following, and it's shame because it's fantastic, well-shot, stylish, and has some incredible gore. Plus both Raimi brothers AND Bruce Campbell! Oh and Emilio Estevez's sister. What more could you ask for??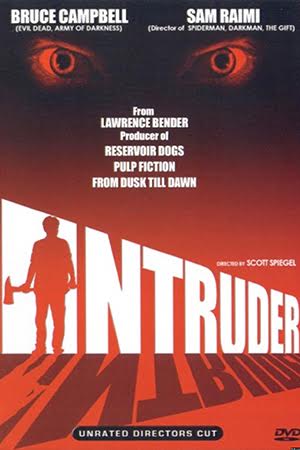 Quote of the Episode:
"The kills were fun, the acting was sub-par, so it's a Slasher" - Brian
More Obscure Slasher Films
We try to keep it topical here on HMN, so this Thanksgiving we're going to really just beat you over the head with Scott's lifestyle choices as we discuss the phenomenal cult classic MOTEL HELL (1980). We discussed this way back in the first iteration of the podcast, but watching the fresh Blu-ray remaster really elevates everything beyond 80s nostalgia and splatter. As we all know, meat's meat and man's gotta eat, so dig in and happy Thanksgiving!
Campy horror flicks that owe their existence to William Castle are hard to come by, and we've already talked HOHH99, so our fearless leader Matt finally pulled the trigger on one of his favorite forgotten gems, POPCORN (1991)! This one has way too many subplots, but makes up for it with 3 Castle-inspired movies-in-a-movie, and some truly bombastic practical effects. If you haven't seen this one, take the time to find a copy, it's a perfect example of the kind of movie HMN would make if we had any sort of budget...
Listener Submitted Month wraps up with one of Matt's favorite movies. We couldn't have a listener submitted month without the unofficial 4th host Kyle Kuchta. Matt saw this at a drive in and thinks that makes him special. We dive into Dean Koontz's novelization, this extremely slow burn film and how amazing the last 15 minutes of this movie is.