Episode 281: Ghostbusters II (1989)
Rundown
It's time to kiss 2020 goodbye like the malevolent spirit of a Eastern European despot stuck in a massive painting. To do so, we enlisted the services of GHOSTBUSTERS ll (1989) since it's technically a New Years Eve movie and we have already discussed NEW YEARS EVIL so we'll take what we can get here on the show.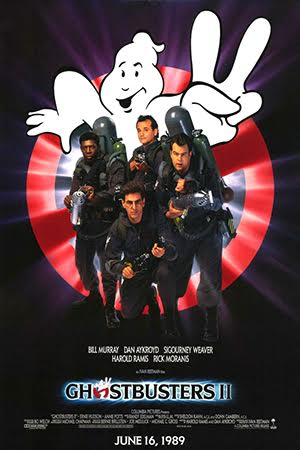 Quote of the Episode:
"It's Just Slime Everywhere the Whole Movie" - Matt
There are so few New Years horror movies that you really only have a handful of options, so this year we went with the one that arguably had the best cover art, 1987's bizarre Bloody New Year! If you ever wondered what a full length Twilight Zone movie with the budget of a single episode and a disco ball full of high-grade coke would look like, then look no further. This film has a science experiment gone awry, 50s time warp (replete with sexy stockings...what? Don't look at me like that) and more loose ends than an old rug. So basically, perfect fodder for our show. Get your seams straight and join the part for the last Horror Movie Night episode of 2017!
If you ever felt that Horror Movie Night wasn't Philly enough, we've decided to bring you some hard-hitting holiday horror from the cradle of the US government, and boy is it an experience! After years of coaxing, Matt has finally allowed a discussion dedicated to Miss December (aka Calendar Girl) from 2011, and it went better than expected; he's friends with the producer and didn't want to hurt his feelings if our discussion went south... Lucky for all involved, this relatively unknown killer Christmas flick is a blast to watch and discuss, and you need to watch it on Amazon Prime instead of (or in addition to) Elves. Hope you're as into unbearable goth manic pixie dream girls as we are, cuz they're crashing the party and already drunk on this week's Horror Movie Night!
2016 has been a real crap year, so of course it needs to end with an equally crappy horror movie about an totally-unmasked killer stalking women to kill as midnight rings in each timezone! That's right, the boys are ringing in the new year with 1980s New Years Eeeeeeeeeeevil. This film is what you'd imagine a quaalude nap at Studio 54 felt like, though there would've probably been a ton more nudity there too, so really, that's a lame example anyway. Nevermind, we have eeeeeeeevil to discuss, so if you're really eeeeeeeeeevil, put on your best Christmas-ribbon dress, slap some rouge across that eeeeeeevil face, and LISTEN. TO. THE REPLAY on the first Horror Movie Night of 2017!