Episode 292: Nightmare on Elm Street 4: Dream Master (1988)
Rundown
Strap in this week when we dive into the most financially successful but most middle of the road of the Elm Street movies. Dream Master contains one of the greatest kills in Nightmare history but does the rest of the film hold up to the quality of that Roach kill? Well ya boys in HMN are happy to do God's work and find out for you.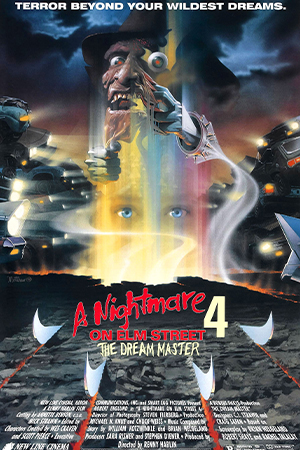 Quote of the Episode:
"The Cockroach death we could talk about for hours" - Matt
Norman Bates, the killer whose origin was never really necessary to be told in-depth, but here we are, having watched and discussed a whole movie about it, PSYCHO IV: THE BEGINNING (1990). Brian's picks are often inscrutable, and this one is the very definition of the word; his catchphrase really sells this one: "Well, it's a movie."
e're heading back to the killer doll well to talk alien demons, robot laser tag and the diminishing returns of Full Moon franchises with PUPPET MASTER 4! We are joined by our buddy Vincent DeSanti of Womp Stomp Films (director and Jason in the fantastic NEVER HIKE ALONE), who drunkenly agreed to tackle this pick with us at Pop Rock N Horror con earlier this summer. He may have the silkiest voice you've ever heard on our show, so bring a towel, he gon make u sweat.
In space.... no one can help you solve a demonic Rubik's Cube. That's why you build a robot that will eventually get exploded (to it's hilarious surprise)! We're talking Cenobites in space this week with HELLRAISER: BLOODLINE (1996), and there are a lot fewer corsets in the Age of Enlightenment flashbacks than Scott remembered. We console ourselves though with some demo-dogs and the less-well-known Twisted Twins, which are actually pretty progressive for a couple mid-90s security guards - good for you, Twin Cenobites! Strap in for one hell of an afterburner with your favorite masters of pain on another episode of Horror Movie Night!