Episode 295: Bride of Chucky (1998)
Rundown
Brian's a tough nut to crack. He didn't like DOLLS (1987) but he's a massive fan of BRIDE OF CHUCKY (1998)... We forgive him because at least he's picking better movies so far this year. You truly can't go wrong with Jennifer Tilly playing Jennifer Tilly's #1 fan and Brad Dourif being, well, Brad Dourif. You know we only have good things to say about this one, it's just a feel-good party this week on Horror Movie Night!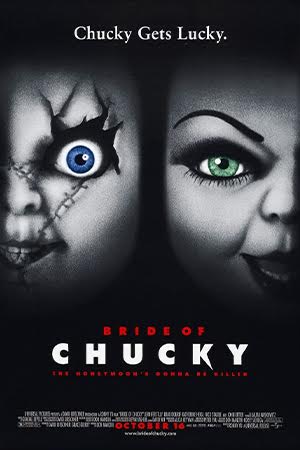 Quote of the Episode:
"I Think This is The Best Chucky Movie" - Brian
Just when you thought it was safe to recycle the plastic from a supernaturally-possessed doll with a creepy smile, surprise idiot! More Chucky! This week's victim is CHILD'S PLAY 3 (1991) - it's a killer toy movie, so of course Matt picked it. Brad Dourif gives it his all as usual, so we do our best to keep up!
In our continued efforts to discuss every killer doll movie ever made, as well as to coincide with the reboot now in theaters, your hosts revisited some kinder-trauma with 1990's CHILD'S PLAY 2! We come to a general consensus that this is the best entry in the series, though maybe not everyone's favorite (ahem Brian), and spend the entire episode gushing over how good the Chucky effects look. We're all smile because we have a friend til the end this week and forevermore here on Horror Movie Night!