Episode 64: The Island of Dr. Moreau (1996)
Rundown
Well, it must be Adam's week to pick a movie, because nothing else could explain the inextricable and excruciating experience endured by your hosts at the hands of 1996's Island of Dr. Moreau. The excellent documentary Lost Souls makes an appearance wearing the same clothes as Marlin Brando while stealing the show. Come WILSON with the rest of the castaways on Horror Movie Night!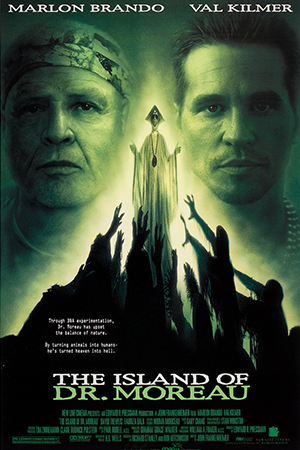 Directed by
John Frankenheimer
Produced by
Edward R. Pressman
Screenplay by
Richard Stanley
Ron Hutchinson
Based on
The Island of Doctor Moreau
by H. G. Wells
Starring

Marlon Brando

Val Kilmer

David Thewlis

Fairuza Balk

Music by
Gary Chang
Cinematography
William A. Fraker
Edited by
Paul Rubell
Distributed by
New Line Cinema

Release date

August 23, 1996(United States)

November 15, 1996(United Kingdom)

Running time

96 minutes
Country
United States
Language
English
Budget
$40 million
Box office
$49,627,779
Film Documentary
Lost Soul: The Doomed Journey of Richard Stanley's Island of Dr. Moreau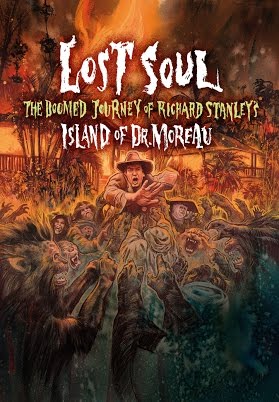 Directed by: David Gregory
Starring: Fairuza Balk, Hugh Dickson and Oli Dickson
Music by: Mark Raskin
Cinematography: Jim Kunz
Edited by: Douglas Buck
Production Company: Severin Films
Release Date: August 24, 2014
Running Time: 97 minutes
Country: United States
Language: English
Wikipedia Synopsis
In Lost Soul Gregory looks at the filming of The Island of Dr. Moreau, specifically the period during which director Richard Stanley spent on the project. Stanley was brought on to the project early but was fired only a few days after principal photography began and was replaced by John Frankenheimer. The documentary looks into Stanley's vision for the film, as he had spent years working on the movie's script and had intended for Bruce Willis to star as Edward, a role that was later given to Val Kilmer, which Stanley viewed as a mistake. Lost Soul features interviews with several people involved with the movie's production and focuses on various aspects of the film, including numerous changes to the script and the difficulties the cast and crew members had to deal with on the set.