Episode 165: Rockula (1990)
Rundown
We interrupt this month of heavy metal horror for a week of lighter fare, and while the title of this one implies there's rock music involved, it's basically synth and early 90s white boy rap, so you can guess which host was adamant about us discussing it (if you guessed Matt, you're right; if you didn't, you're definitely not paying attention to our show). In any case, we are talking the ironically-named ROCKULA from 1990, featuring extensive scene-stealing by the woman who sang Mickey (Toni Basil) and the guy who sang She Blinded Me With Science (Thomas Dolby). It's worth a watch if for only for the amazing arena rock ballad midway through, so give this episode a listen - it's your destiny!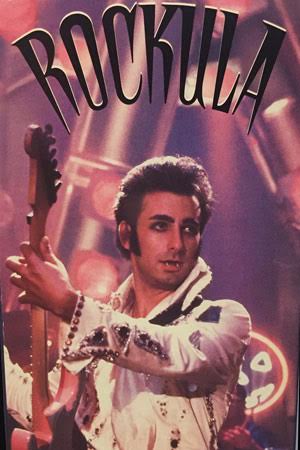 Quote of the Episode:
"I'm Rockula and I'm here to say, I don't like eating people no way!" - Brian
Hey creeps, we had such a good time with Listener Submitted Month that we decided to extend it by a week, and boy do we regret this decision! Uwe Boll is never a good choice, but 2005's BLOODRAYNE is a special kind of banality that only an all-star cast and a couple pounds of ketamine can provide. Watch in amazement as Billy Zane, Michael Madsen, Michelle Rodriguez, Meatloaf Aday, Michale Paré, Udo Kier, and freaking BEN KINGSLEY try to make sense of this godawful vampire flick based on the much cooler video game. For the love of all things unholy, the costume designer of this movie needs to have their skin flayed like Frank in Hellraiser for falling asleep at the sewing machine. God damn this movie sucks. Enjoy our pain on this week's episode of Horror Movie Night!
Anyone who says disco is dead has obviously never seen disco-spoiltation vampire flicks featuring a belly-dancing granddaughter of Dracula (Nai Bonet), a geriatric Vlad with fang dentures (John Carradine), his previous girlfriend (Yvonne DeCarlo), Brother Theodore as a rapey werewolf, a male lead that basically looks like He-Man before the sword powers, and at least one Playboy model. NOCTURNA (1979) is... something, we guess? We tackle this one live at Monster-Mania with Marissa, the other half of the Jersey Ghouls, and then turn to cartoon bats as dawn breaks. Cue funky bassline!
Full Moon Pictures is like the Bloodstone of cheesy horror, always dribbling out something to satisfy us at Horror Movie Night, and this week, we're talking SUBSPECIES (1991) with Jackie of Jersey Ghouls fame! The Draculas are out in force and we sort of talk about the film while enjoying each other's real-life company at Monster-Mania this March. Sink your fangs into our nubile, pasty flesh, we don't mind...