Episode 58: Maniac Cop (1988)
Rundown
The masses have spoken, and we have answered: we bestow upon you a parable of prolonged police persecution in the bustling beaurocracy of the burgeoning Big Apple, also known as 1988's Maniac Cop! Highlights are Bruce Campbell and the lady cop's undercover prostitute hair; definitely not the plot. Cross the thin blue line, thrill me and borrow your cellmate's shank, it's Horror Movie Night!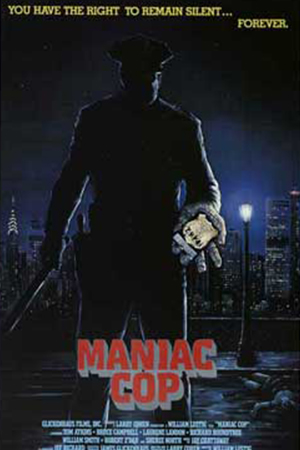 Quote of the Episode:
"Why did we agree to watch this movie?" - Scott
More Underrated 80's Slasher Films
If there's one thing we love on this show, it's John Waters and killer clowns. Wait, that's 2 things. I guess you could say we hate math here too. In any case, we are tackling the fantastic and tragically forgotten OUT OF THE DARK (1989), which prominently features a clown-masked phone sex pervert, Divine's last film before passing away, and a totally unrealistic photo-shoot replete with fog machine and seizure-inducing freeze frames. It's even better than it sounds, and we want to...shed some light on the darkness surrounding this piece of cinema. Save up your quarters and grab some tissues, this week we're dialing 1-800-HMN-BOIS
It's the day after Thanksgiving and everyone is feeling fat and terrible from all of yesterday's overindulgence, so fire up the boombox, pull on your loudest spandex onesie and let's sweat the evil out with 1987's Killer Workout (aka Aerobicide)! Scott counts the gratuitous dance sequences (with time stamps, you're welcome), Matt feels the burn, and Adam picks the most ridiculous slasher weapon ever. It's a wonder there was any coke left on Earth after the filming of Killer Workout, and if you haven't watched this one yet, you'll understand soon enough. Build your own dadbod with us this week on Horror Movie Night!
It's episode 99 so it should surprise no one that we went with Sleepaway Camp 2, the delightful sequel to episode 50's Sleepaway Camp - now with 100% less baseball montages! SAC2 is arguably less transphobic, less homophobic, and definitely way more boob-filled than its predecessor, but one thing remains the same...Kids these days are only trying to get someone to touch them where they pee. For this sin, all must die. Join us as we decide which grossly inventive kill is the best and wonder how every camper appears to be 25 on this week's episode of Horror Movie Night!