Episode 155: Basket Case 3 (1991)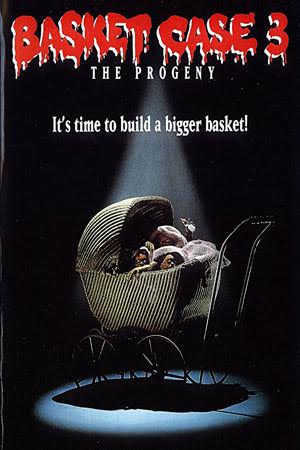 Quote of the Episode:
"They did it on purpose like when I'd popcorn the stuttering kids during reading" - Brian
More Frank Henenlotter Films
WANT A PODCAST? LOOKIN FOR COMPANY? LIKE CAPS LOCK? HOW ABOUT 1990'S FRANKENHOOKER? This week, the guys get elbow deep in giant crack rocks and purple goo, and discuss Matt's romantic evening plans, Adam's scientific proclivities, and Scott's ongoing obsession with head explosions. Got any money? It's Horror Movie Night!
Brothers can be such a pain... Always needing rides everywhere, always bugging you telepathically while you're on a date, eating 10 gross hamburgers in a sitting, hiding in the toilet; you know, typical brother stuff. The HMN brothers-from-different-mothers try to keep a lid on Frank Henenlotter's 1982 cult classic Basket Case in this week's episode, even though one of their ranks has been chopped in half by a homemade saw device that has the police stumped. If you're rolling around in your brother's girlfriend's guts, you know what time it is - it's Horror Movie Night!
It's Matt's pick this week, and he has a long history of making the guys watch and discuss freak movies, so he went with one of his favorites, the 1990 Frank Henenlotter classic (?) Basket Case 2! We're all attached at the hip with our rollercoaster of emotions for this film, and do our best to sew ourselves together long enough to break down the intricate social commentary of this piece of cinema, as well as shower compliments on its SFX team for all the delightfully weird busts they made here. If you've ever wondered how freaks have a picnic, well you're in luck, because it's shown for about 5 minutes in this week's episode of Horror Movie Night.