Episode 17: Poltergeist 3 (1988)
Rundown
If you haven't seen Poltergeist 3 yet, prepare to get carol anne'd. We took one for the team and discussed this steaming pile of carol anne, which led to much carol anneing by all parties involved. The in-camera effects were cool, but can they save this movie from an icy carol anne? Join us for another carol anne and find out on Horror Movie Night!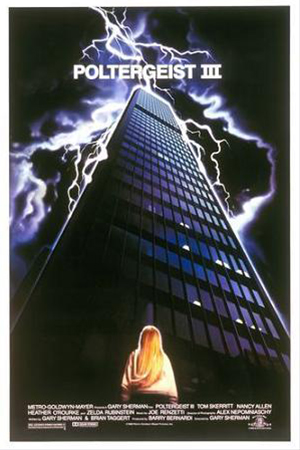 Quote of the Episode:
"Everyone in this family hates Carol Anne" - Adam
More Films With Ghost Experts
This week's discussion is Odd Thomas, which brings us to ponder second-rate horror novelists, nu-metal tattoos and ghost sex. Matt has never hated a pick this much, while Adam and Scott just like to overtalk each other. There are more tangents than Bodachs in Odd's town, so get your ice cream ready for another installment of Horror Movie Night!
It's been far too long since the 420 Boyz discussed ghost sex, so they went ahead and dove soul-first into 1996's supremely entertaining Peter Jackson outing The Frighteners! When your film stars the Re-Animator, Marty McFly, Gomez Addams, ET's mom and Jake Busey's teeth, and is the reason the LOTR movies get made, you know it's going to be a good time. We promise not to carve 69 into your forehead as long as you join us for another episode of Horror Movie Night!
In a world full of hot scientists (aka actress/models wearing glasses and a tight bun), be a dumpy retired psychic detective in earthtones, like the protagonist in THE BONEYARD (1991). While most of the movie is like celluloid Lunesta, there IS a giant mutant Phyllis Diller monster, a giant mutant poodle monster, and some pretty gross-looking zombie children. Lots of gooey goodness to be had as long as you're diligent with that fast forward button. Come cackle with us like crazy old women in wigs on another episode of Horror Movie Night!