Episode 177: Shrieker (1998)
Rundown
It's the last regular episode of 2018 so we decided to celebrate the 20 year annivesrary of the most obscure Full Moon film imaginable SHRIEKER. This film about the evils of squatting has a pretty dope, but over powered titutlar characters scratching people to death. Join us won't you on HORROR MOVIE NIGHT!!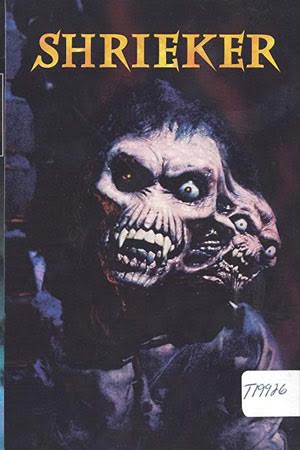 Quote of the Episode:
"The monster is fucking overpowered it's unreal" - Scott
Last week, we discussed dinos coming back from the dead, and to keep the theme going, we're going to move on to alien plants that will either cover you in sticky white stuff, or sticky yellow stuff, then transform you into plant monsters with no legs. It's been a while, but we're back on our Full Moon Pictures grind with 1992's Seedpeople and it's all Scott's fault! The pitch for this movie probably sounded a lot like this: "Invasion of the Body Snatchers is a good movie. Let's do that exact same concept but with a fraction of the budget, a horrendous script, and actors who can't act." And somehow it got greenlit... and that's why we love Full Moon. At least they can say that they didn't make the worst killer plant movie of all time, since that crown rests firmly on M. Night Shyamalan brow. Eat your veggies, or don't, because either way they're going to eat you on this episode of Horror Movie Night!
We're heading back to the killer doll well to talk alien demons, robot laser tag and the diminishing returns of Full Moon franchises with PUPPET MASTER 4! We are joined by our buddy Vincent DeSanti of Womp Stomp Films (director and Jason in the fantastic NEVER HIKE ALONE), who drunkenly agreed to tackle this pick with us at Pop Rock N Horror con earlier this summer. He may have the silkiest voice you've ever heard on our show, so bring a towel, he gon make u sweat.
It's no secret we relish bad horror movies on the show, but sometimes even bad horror can be in bad taste. Take, for example, this week's urban clown demon mess KILLJOY (2000). Even with a runtime of just over an hour, this one was pretty painful for everyone, so thanks for that, Brian. Watching it as an anti-drug PSA at points may help viewers avoid smoking hell-joints that look like Pepperidge Farm Pirouettes or buying drugs from a pointy-toothed clown with stupid hair. Maybe. Get lit and listen to us try to unravel this low-budget mystery on another episode of Horror Movie Night!