Episode 18: Spaced Invaders (1990)
Rundown
Happy Halloween from the HMN crew! As a special surprise, Matt forced Scott and Adam to watch one of his favorite Halloween films, Spaced Invaders. We don't want to spoil the fun, but Scott and Adam were less than pleased with this turn of events. Dust off your Martian bomber jacket and practice up on your best pop culture voice impressions, it's time to blow this turd up!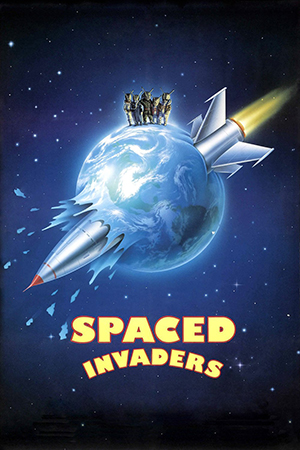 Quote of the Episode:
"You're saying you're charmed by New York New York in Gremlins 2 but not their version of Home on the Range" - Matt
More Kid Friendly Halloween Films
It's Halloweentime again at the old HMN place, and the guys have once again agreed to subject themselves to an appropriately questionable kids' movie in honor of the best day of the freakin' year - this time around, it's Ernest Scared Stupid from 1991. It's no Spaced Invaders, but Adam and Scott have reservations, while Matt is, as usual, awashed in a golden shower of nostalgia. Bust out your miak, troll boogers, and weird multi-costume expositional montages, it's the annual Horror Movie Night Halloween episode!
We're on the cusp of Halloween Weekend 2k17, kids, so we scrounged up a truly terrifying tale of thaumiel trickery to assail your aural appendices, a story of one child's harrowing nightly encounters with Howie Mandel in his bedroom. That's right, we're talking 1989's Little Monsters! This isn't a good movie, but really, we don't associate ourselves with those kinds of movies anyway, and Howie's cocaine freakout performance pretty much fits right into our wheelhouse. Thrill to scenes of Mr. Mandel tempting fate to explode his heart and a child drink urine. It's all here on this Halloweekend episode of Horror Movie Night!
We made it through Rocktober and there's only one way to top that - the spiritual successor to Teen Wolf, 1989's charming TEEN WITCH! While not all of the hosts may have had fun watching this one, at least one of them found a wellspring of joy in the magical escapades of the bookworm-turned-babe Louise Miller as she gains the power to turn frogs into sex slaves for Zelda Rubinstein, send date rapists to the Negative Zone, and bum denim jackets off of pop singers. Did we mention the multiple spontaneous dance numbers? Well now you know, so sit back and practice your "school sucks" raps, because it's Halloween on Horror Movie Night!