Episode 33: People Under The Stairs (1991)
Rundown
Hey all you PUTSes (that's short for People Under the Stairs...es), no need to fight over the scraps of human flesh thrown to you by your gross incest-y captors, cuz this week we're discussing YOU! The guys get lost and moderately uncomfortable in the walls of the house Wes Craven built in the early 90s after reading the Boyz n the Hood script, but they somehow make it out to tell the tale - though they may never sell Boy Scout Cookies again. Cut out your tongue, cuz there's no talking during Horror Movie Night!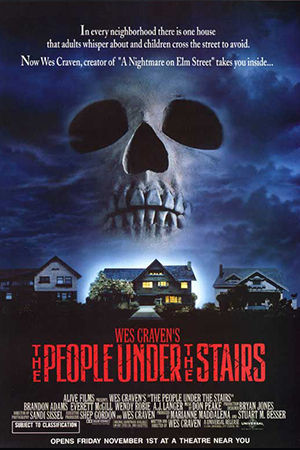 Quote of the Episode:
"Wes Craven somehow got a script for Boyz N the Hood. Ran home. Wrote this. Reached back. Gave himself a nice pat on the back" - Adam
It's week three of October, and time for a heavy sociopolitical discussion that Matt has been dreaming of having since before HMN's inception: 1995's depressingly-still-relevant TALES FROM THE HOOD! This is one of the more difficult films for a show like ours to discuss, so hopefully we navigate the treacherous waters well enough to not sound like total idiots. This is one of the best horror anthologies out there, and still required viewing in 2019 - Clarence Williams III commands you!
It's no secret we relish bad horror movies on the show, but sometimes even bad horror can be in bad taste. Take, for example, this week's urban clown demon mess KILLJOY (2000). Even with a runtime of just over an hour, this one was pretty painful for everyone, so thanks for that, Brian. Watching it as an anti-drug PSA at points may help viewers avoid smoking hell-joints that look like Pepperidge Farm Pirouettes or buying drugs from a pointy-toothed clown with stupid hair. Maybe. Get lit and listen to us try to unravel this low-budget mystery on another episode of Horror Movie Night!