Episode 4: Dr. Giggles (1992)
Rundown
In this episode of Horror Movie Night, we watch and discuss 1993's slashfest Dr. Giggles. Matt laughs harder than he has since he gave Scott a physical, and Adam is so disappointed with his first viewing of Dr. Giggles he eats a half gallon of ice cream; luckily, Matt has his vintage stomach pump handy. Also, listen for a shocking revelation about Dr. Giggle's connection to another popular horror franchise, and how he drives cops to the bottle in the process.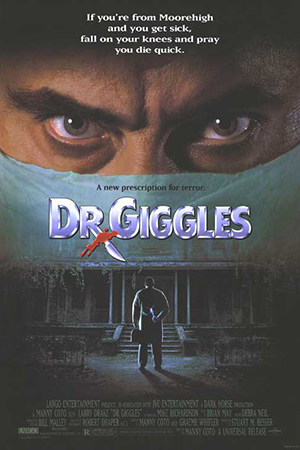 Quote of the Episode:
"I also caught the giggles" - Adam
Well, we did it, y'all. We talked about all of the TCM movies applicable to the show. Our fourth and final listener submitted pick is TEXAS CHAINSAW MASSACRE 3: LEATHERFACE (1990), and is the mirror opposite of last week's fantastic 3rd installment in the COTC series in pretty much all possible ways. Recorded live at Creature Feature Weekend in Gettysburg PA with our friend Joshua, we even have the listener who suggested it (Eli B.) come up and read his email/defend this abomination of a film! If you couldn't get enough phallic chainsaw imagery with our PIECES discussion, here's your chance for another helping of questionable content.
In our continued efforts to discuss every killer doll movie ever made, as well as to coincide with the reboot now in theaters, your hosts revisited some kinder-trauma with 1990's CHILD'S PLAY 2! We come to a general consensus that this is the best entry in the series, though maybe not everyone's favorite (ahem Brian), and spend the entire episode gushing over how good the Chucky effects look. We're all smile because we have a friend til the end this week and forevermore here on Horror Movie Night!
It's America's birthday and you know what she hates more than anything? COMMIES. She needs a knight in shining red, white and blue armor (and totally not-creepy mask) to replenish the blood on the roots of the Tree of Liberty and who better suited for the job than an abusive rapist husband/brother/uncle-cum-undead soldier named Sam? We're celebrating our independence from sanity with 1996's Uncle Sam and just wow. The unspoken subplot of the film has to be that the main child actor is really a robot in synthetic human skin, that's the only reasonable explanation for his performance. You also get some interesting kills and the faintest hint of a critique of the military you'll see in a Fourth of July horror film, so it's definitely worth the price of admission. Nothing says AMERICA like corrupt politicians, Chinese fireworks and Horror Movie Night!