Episode 43: Death Becomes Her (1992)
Rundown
So a blonde, a brunette and a redhead walk into a mansion full of supposedly-dead celebrities... Wait, is that how the joke goes? It's probably funnier when Bruce Willis tells it in 1992's shoulda-been-a-Tales-From-the-Crypt-installment Death Becomes Her. This week is special because everyone pretty much agrees that this movie rules, even Adam - IT'S A MIRACLE! Come on you apes, you wanna live forever?? It's Horror Movie Night!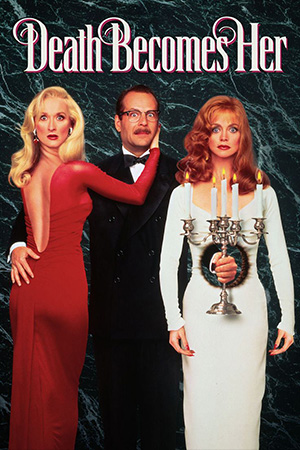 Quote of the Episode:
"I didn't sleep for a night or two so I bought into it" - Matt
WANT A PODCAST? LOOKIN FOR COMPANY? LIKE CAPS LOCK? HOW ABOUT 1990'S FRANKENHOOKER? This week, the guys get elbow deep in giant crack rocks and purple goo, and discuss Matt's romantic evening plans, Adam's scientific proclivities, and Scott's ongoing obsession with head explosions. Got any money? It's Horror Movie Night!
Wake up to a dream within a dream about a mouthbreathing, galoshes-wearing, teen-killing weirdo that may just be your body's reaction to a bad chili dog from the cafeteria, cuz the HMN boys are taking on the ORIGINAL meta horror comedy, 1980s Student Bodies. On this day, we are all nonsensical murderers with a cold, poking fun at the first wave of slasher flicks and the dumb character decisions we all love to hate. Grab some paper clips and your second-favorite handicapped janitor for this week's Horror Movie Night!
It's good to know that after the bombs fall and half of the world is mutated into weird, pervy amphibians, we'll have someone like Rowdy Roddy Piper to repopulate the planet with his incredible sperm - or at least, that's the way things go in this week's pick, 1988's post-apocalyptic, post-consent fever dream Hell Comes to Frogtown. Here's a question for you listeners, why would frog-people have an entire city in the middle of the desert? Wouldn't that be terrible for creatures that have evolved to live in both water and on land? We have more questions, but few answers, so come share our bewilderment this week on Horror Movie Night!