Episode 217: The House That Dripped Blood (1972)
Rundown
For our second October anthology movie, Brian once again shows how inscrutable his tastes are by hitting us with 1971's ironically bloodless THE HOUSE THAT DRIPPED BLOOD. After Matt and Scott rip this one to shred, Brian explains that he plans to start his future children with this kind of movie on their horror journeys; so basically his kids won't be horror fans after all...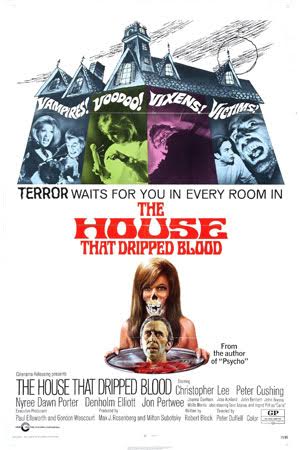 Quote of the Episode:
"This is the most G rated movie we've ever discussed for the podcast" - Matt
It's Halloween week and time for our last horror anthology, so of course we pulled out the big guns with 2007's TRICK R TREAT! We are joined by Jason of Creepy Co, and spend the entire episode just gushing about what a great piece of entertainment this one is. We also get into a nice tangent about Super Troopers, so don't worry, still on-brand for us. Make sure your jack-o-lantern is lit all night long, just in case!
It's October, and we're lifting our moratorium on anthologies for one month only, starting with the oddly forgotten NECRONOMICON: BOOK OF THE DEAD (1993), directed by the immortal Brian Yuzna, Christophe Gans, and Shusuke Kaneko! We are joined by Cyborg Joe of THE LETHAL WEAPONS all the way from Japan, your new favorite band and you just don't know it yet. The star of the film is obviously Bruce Campbell, I mean Jeffrey Combs' prosthetic nose, but there's also a sick body melt (hey, it's the TGRI guy!), sea monsters, and bat-aliens with brains in their tummies. It's a good time all around, as Joe and the guys can attest (Brian is just a grump). Strap in for a month of anthologies, as well as 907.185kg of bonus content because it's Halloweentime finally and fuck the customary system - metric 4 life!
It's week three of October, and time for a heavy sociopolitical discussion that Matt has been dreaming of having since before HMN's inception: 1995's depressingly-still-relevant TALES FROM THE HOOD! This is one of the more difficult films for a show like ours to discuss, so hopefully we navigate the treacherous waters well enough to not sound like total idiots. This is one of the best horror anthologies out there, and still required viewing in 2019 - Clarence Williams III commands you!