Episode 252: Nightbeast (1982)
Rundown
Somewhere, someone greenlit a movie about an alien that shoots lasers at people at all hours of the day, but for some reason gave it the name NIGHTBEAST (1982). It is neither an actual beast, nor does it only attack at night, plus there's a random subplot of a murderous biker (on top of the scientist cardboard cutouts trying to stop the titular creature). This movie is a mess, so you get one guess as to which of your hosts chose it...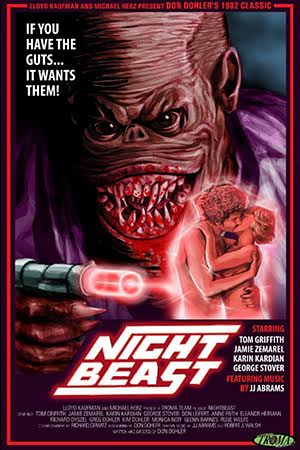 Quote of the Episode:
"The First 15 Minutes is like 30 Deaths" - Matt
More Aliens on Earth Films
If you were wondering whether we're tired of meta horror yet, here's your answer: nope! Matt chose a real banger this week, the alien-frog-with-laser-eyes romp THERE'S NOTHING OUT THERE (1992). There are punks, bros, hot ladies, skinny-dipping, a ridiculous monster with even more ridiculous weaknesses, and even a boom mic getaway. This one is a cult classic for a reason, and it's save to say it checks all of the HMN boxes!
The higher powers (aka ancient aliens, duh) have heard our prayers for MORE DECAPITATIONS and granted us the gift of a movie who's only real plot point is an alien stealing human heads. THE BORROWER from 1991 is a delightfully silly little flick that never quite gained enough cult status to be remembered by most of us... and a lot of that probably has to do with it's barely existent storyline about a murderous alien de-evolved down to human form, who stumbles around LA for 80 minutes just snatching heads whenever it needs a new one. Your boys on Horror Movie Night are all about the head trauma, and this baby delivers, so grab a 40 of malt liquor and get crazy with The Borrower!
If the creeping dread of another Cold War hasn't quite hit you yet, the HMN boys will get you there with 1983's low budget, killer-alien-in-a-meteorite The Deadly Spawn! This homage (well, more pastiche, really) to the alien monster heyday of the 1950s spent all of its money on creature effects (which are awesome, despite what Adam may think) and then hired people off the street to get eaten by weird hungry tadpoles. Don't go in your swampy, disgusting basement, cuz it's Horror Movie Night, comrade!