Episode 299: Creature Walks Among Us (1956)
Rundown
You know what's REALLY scary? A fish-man wearing sensible human clothing. Especially when said fish-man is swole AF. We're diving into the deep end of the Black Lagoon and coming up for air with THE CREATURE WALKS AMONG US (1956). This is one of the wildest concepts for a golden age horror movie and definitely worth discussing Creature's fitness routine cuz dayum!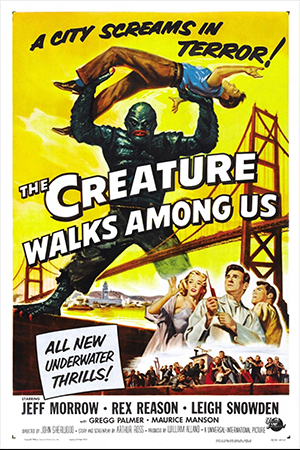 Quote of the Episode:
"This is 1956 Baby" - Matt
More Aquatic Horror Films
We couldn't get enough of the cast of LORD OF ILLUSIONS, so we took a dive into the briny blue in search of slimy horror treasure with 1998's DEEP RISING! Packed to the gills with Famke Jannsen, the guy who played her creepy husband (?) in LOI, K-Mart Jeff Fahey (Treat Williams), Nick Nolte's body double (Anthony Heald), and a ton of awful CGI, you know we're swimming in bad jokes and wordplay. Dip your toe in (that's for the Tarantino's out there, wink), the water's fine!
Have you ever looked at a shark… in 3-D… on weeeeeed?? Well, today is your lucky day, as the boys are suffering through ANOTHER killer shark movie (thanks Matt), and their pain is your pleasure. JAWS 3-D (1983) is a serious pile of garbage, and we give it the dressing-down it deserves while working on our sexy tanlines. Don't be jealous, just grab the sunscreen and make sure to apply a healthy dose to our toned bodies.
Surf's up, it's time to KILL! Oh, and also get down to some sweet tunes on the sand with greasers wearing turtlenecks and leather jackets for some reason. We're talking the notorious HORROR OF PARTY BEACH (1964), replete with a beach band in matching outfits, a sock-free sockhop, mutated sea monsters, and the same boring scientists giving boring exposition to pad the runtime that you know and love from every drive-in movie ever! Get some sunscreen, it's gonna be a hot one.