Episode 10: Night Of The Creeps (1986)
Rundown
Close your mouth and open your ears, cuz this week's discussion is Night of the Creeps! Our guest Don waxes poetic about houseboats and his future robot upgrades, while Adam realizes he has handicap blindness. Zombified douchbags in tuxes, reanimated axe murderers, and the cop from Dr. Giggles make an appearance, so leave your human brains (they're for a project) in the basement and join us for Horror Movie Night!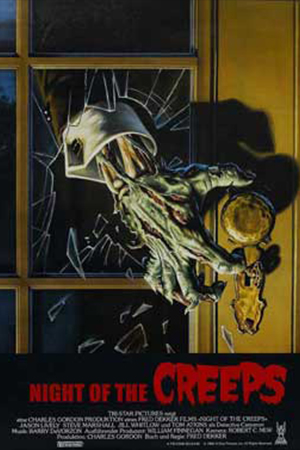 Quote of the Episode:
"I didn't notice he had crutches for the first 15 minutes of the movie" - Adam
More College Horror Films
We've got our boy Kyle Kuchta back with us on the show and we just love him to PIECES... like the infamous Italian video nasty from 1982 some of us had a great time watching, and then there's Scott. We put our heads together to finish the nudie puzzle, because let's face it, the crotch is always the most confusing part. It's amazing that any of us have ever felt the touch of a woman.
It's the last regular episode of 2018 so we decided to celebrate the 20 year annivesrary of the most obscure Full Moon film imaginable SHRIEKER. This film about the evils of squatting has a pretty dope, but over powered titutlar characters scratching people to death. Join us won't you on HORROR MOVIE NIGHT!!
Crushing beers, negging girls into some dry humping, light hate crimes and possible vehicular manslaughter - the good ol' college days all white dudes yearn to relive! Except this time, THIS THIRD TIME, someone is killing all our bros in inventive ways! Who's going to help us do kegstands now?! It's a very DUDE BRO PARTY MASSACRE III day with your actual bros Matt and Brian and their not-actual bro Scott, and you know we're just itching to finally beef. The hazing continues as we mostly just quote the ridiculousness on display in this masterpiece from the 5 Second Films crew. We've ruined your liiiiiiiiiiiiiiiiiiiiiiiiiiiiiiiiiiiiiiiiiiiiiiiiiiiiiiiiiiiiiiife!