Episode 13: Whatever Happened To Baby Jane? (1962)
Rundown
Well, I do dee-clay-uh! This week we are discussing the Bette Davis/Joan Crawford cult classic Whatever Happened to Baby Jane. Adam and Scott are surprisingly receptive to Matt's choice of black and white suspense movies, so neither were tied up and incapacitated in their bedrooms after the podcast. Everyone's pet birds made it out alive too, so we're going to consider this episode of Horror Movie Night a success!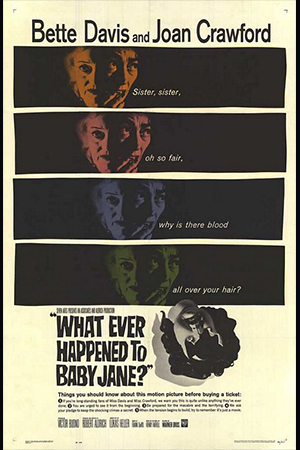 Quote of the Episode:
"I don't wanna talk about those bad thangs" - Scott
For our second October anthology movie, Brian once again shows how inscrutable his tastes are by hitting us with 1971's ironically bloodless THE HOUSE THAT DRIPPED BLOOD. After Matt and Scott rip this one to shred, Brian explains that he plans to start his future children with this kind of movie on their horror journeys; so basically his kids won't be horror fans after all...
Anyone who says disco is dead has obviously never seen disco-spoiltation vampire flicks featuring a belly-dancing granddaughter of Dracula (Nai Bonet), a geriatric Vlad with fang dentures (John Carradine), his previous girlfriend (Yvonne DeCarlo), Brother Theodore as a rapey werewolf, a male lead that basically looks like He-Man before the sword powers, and at least one Playboy model. NOCTURNA (1979) is... something, we guess? We tackle this one live at Monster-Mania with Marissa, the other half of the Jersey Ghouls, and then turn to cartoon bats as dawn breaks. Cue funky bassline!
It's time to do your civic duty and cast your ballot for a man who will keep his campaign promises, specifically if those include turning into a blood-thirsty lycanthrope and disemboweling crooked politicians. We dig deep into the vault for the 1973 horror comedy THE WEREWOLF OF WASHINGTON! Your hosts are joined this week by the illustrious Chris LaMartina, the mastermind behind one of our favorite recent flicks, the WNUF Halloween Special, and we get into some polite political discourse between riffing on the weird stuff that occurs in Werewolf of Washington (there's a lot). Scott also gets a little starstruck by Chris's film credits (heyyyy Call Girl of Cthulhu) - do you think the Pentagon is behind this??