Episode 152: Silent Night Deadly Night Part 4 - Initiation (1990)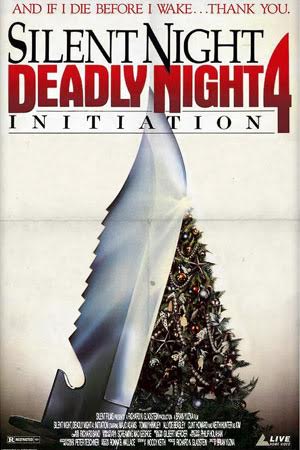 Quote of the Episode:
"My dick does not sign checks but when I try a lot I'll sometimes get better. Why can't Clint Howard act yet?" - Brian
More Christmas Horror Films
On this special (in the worst possible way) episode of Horror Movie Night, we give in to Matt's pleading and discuss Silent Night Deadly Night 5: The Toy Master! We collectively worry that Micky Rooney's blood sugar level was way too low throughout the filming of this movie, and mourn for Clint Howard's unintentionally auspicious acting career. It's Christmastime, spend it with the father of your bastard child (who moonlights as a mall Santa) and fight off the terrifying trinkets surrounding your bed, it's Horror Movie Night!
As a child, did you ever grab a present from under the tree on Christmas morning, shake it and think, "oh sweet, the Ninja Turtles skateboard I wanted!" only the unwrap it and find yourself staring at a year's worth of socks? We imagine that's how you're feeling as you realize we're talking the Black Christmas remake from 2006 and not the original from 1974. Hashtag sorrynotsorry bitches, because this version, also known as Black Xmas, is unfairly hated, and is actually a pretty solid mid-2000s slasher. Its creators really wanted to see how many attractive 25 year olds they could cast as sorority sisters and how much eye trauma they could cram into 90 minutes. The answer to both questions is (thankfully) A LOT. Spike the eggnog and roast those human skin gingerbread cookies extra crispy, then cozy up with us next to your favorite disembodied Midwest podcast voices on this Christmas episode of Horror Movie Night!
It's Christmas Eve and boy do we have a surprise for you... We dug deep in our bag of podcast magic and pulled out a very special episode for you, full of Nazis, Grizzly Adams, and of course incest. That's right, this week's episode is the abysmal Xmassacre ELVES from 1989! Put on your Santa hat and draw some swastikas on your boobs/moobs as the guys wind their way through the celluloid insanity on display here. There are truly no words for this film, but HMN tries real hard to fill in the awkward silence. Happy holidays and watch out for grandpa, it's a very merry Horror Movie Xmas Night!