Episode 300: Pee Wee's Big Adventure (1985)
Rundown
HOLY EXPLETIVE, WE MADE IT TO EPISODE 300! To celebrate (almost) 6 years of HMN behind us, we decided to go on an adventure. A big one, to be exact - PEE-WEE'S BIG ADVENTURE (1985) which, as other millenials know, is straight kindertrauma. Plus it's got Large Marge, killer clowns, and Elvira out of costume. Let's celebrate all the way to Warner Bros' studio lot!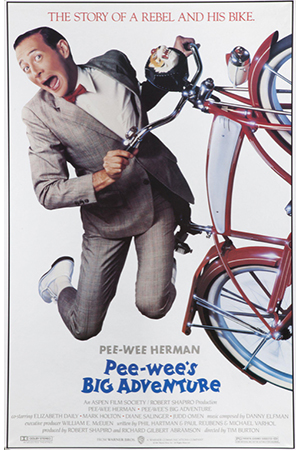 Quote of the Episode:
"Some could argue the best Tim Burton" - Matt
More Anniversary Episodes
Matt has waited 5 years to finally discuss one of his all-time favorite movies on HMN, and his cohosts are more than happy to revisit the insane FREAKED (1993)! The Kelly boys grew up on this over-the-top Alex Winter monsterpiece, and Matt insisted Scott watch it almost as soon as the two of them got to know one another. Thanks to everyone who has enjoyed the show over the last 249 episodes, we can't wait to make you laugh, scream and groan for another 250!
Nyahnyahnyahnyah nyah nyah,nyahnyahnyahnyah nyah nyah, nyahnyah nyah nyahnyahnyahnyahnyah nyahhhhhh! It's episode 150 of Horror Movie Night and we decided to treat ourselves after midnight with a little film we like to call GREMLINS 2: THE NEW BATCH from 1990! We also were finally able to bring our Podfather Jonathon London, creator of Geekscape, along for the ride, and this was way better than our original request to do CHUD with him 3 years ago... We have a blast revisiting this beloved gem and questioning some of the movie logic on display, but does it really matter because VEGETABLE GREMLIN! Thanks for sticking with us and helping keep us crazy enough to watch 150 horror films and discuss them weekly over the last 3 years of the show. Here's to 150 more (and Gremlins 3, written by, directed by and starring Pizzaboy Jon London)!