Episode 39: The St. Francisvlle Experiment (2000)
Rundown
Do you have a crappy handheld camera and vague reason for believing in ghosts? Of course you do! Bring your lace choker and bad haircuts as we subject ourselves to 2000's The St. Francisville Experiment. Matt and Adam wonder why Scott advocated for this listener pick, and Scott spends most of the episode apologizing for it. We hope you're not scared of farts, because they're in abundance on this week's Horror Movie Night!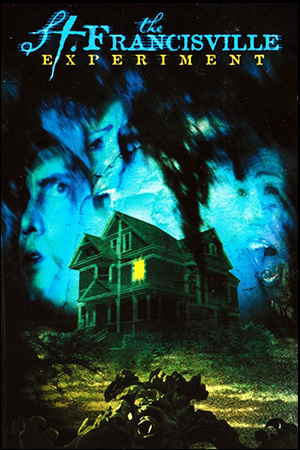 Quote of the Episode:
"I'll be honest. I only watched 35 minutes of this movie" - Adam
We hope your full metal jacket is polished and ready, because this week, we dive into the stupidest-looking jungle behind our dead aunt's pool to discuss 1986's HOUSE! There are used Hellraiser props, flying garden tools, babysitting hijinks and a couple dudes with questionable employment decisions to talk about. Believe it or not, it's another episode of Horror Movie Night!
In true Horror Movie Night style, the guys are kicking off the holiday season with a film whose themes include (but are not limited to): prison, death penalty, alcoholism, bigotry, prison rape, trucker hats, and the ever-present electric ghost. That's right, we're talking Renny Harlin's 1988 diamond in the rough PRISON! If you ever wondered what Aragorn was doing before that idiot Frodo came along, or what Deebo was up to on Thursday, this is the movie for you. Burn your bedding but keep the trucker hat, cuz it's getting hot in solitary this week on Horror Movie Night!
We talk semi-regularly about the diminishing returns of horror franchises, but rarely do we see one fall so far into nebulousness as the 1989 House "sequel," The Horror Show, starring Lance Henriksen! Lance is a hard-boiled cop dealing with PTSD after his partner dies while apprehending Meat Cleaver Max, so of course he spends his time choking his wife out and shooting his tv set. No one believes that his family is being haunted by Max's electrically-charged spirit, and we wonder multiple times if we're not just watching Shocker again. This is a real stinker (thanks Matt), but we make the most of it in typical HMN style, so bring your appetites for a random non-Thanksgiving turkey dinner with all the fixins, including a ghostly psychopath's terrible goatee. Yum!