Episode 9 Jug Face (2013)
Rundown
This week, the gang delves into the backwater horrors of pit monsters, traditional inbreeding techniques, square-dancing and pottery. Listen in amazement to our guest Kanon's insightful musings and hatred of incest babies! There's also discussions of Old Testament angels and demons, mispronounced names and a lot of uncomfortable laughter. Ok, maybe it's comfortable but don't judge us. It's another episode of Horror Movie Night!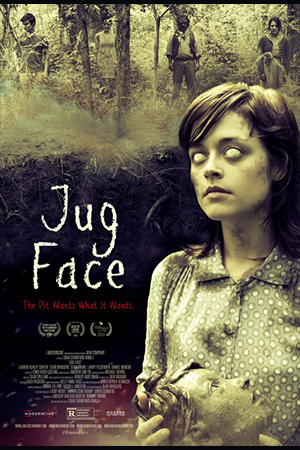 Quote of the Episode:
"I think you told me it was a slasher to be honest" - Matt
More Backwoods Cult Films
You know you're from the Midwest when you're more disgusted watching a man eat a raw ear of corn like a goddamn savage than by the insane corn monster swallowing teenagers whole. Our 3rd listener submitted pick is CHILDREN OF THE CORN III: URBAN SACRIFICE (1995), and good lord is this movie good! This is 100% USDA organic HMN perfection in celluloid form, and we just can't say enough nice things about it. If you haven't seen it, THIS is the one that gets the show stamp of approval! Though we're left to wonder if Screaming Mad George has ever actually SEEN an ear of corn...
It seems so many horror movies are kicked off with a mistake - smacking an old bucket full of zombie chemicals... letting a disfigured boy drown while you're dry-humping... watching CURSE lll: BLOOD SACRIFICE... Tale as old as time, amirite? This boring drama-with-two-quick-shots-of-a-sea-monster-in-the-last-3-minutes boasts Christopher Lee's terrible lower teeth, a surprising level of racism for a movie released in 1991, and an even more surprising lack of rubber suit monster for a movie that ostensibly got made due to the moderate success of Screaming Mad George's awesome Curse ll: The Bite. This is easily the most boring movie we've ever discussed on the show, but we somehow manage to enjoy each other company while ripping it apart. Travel back in time to apartheid South Africa and horrible racist stereotype with your hosts on this week's episode of Horror Movie Night!
Some people are just careless with their money. Case in point, whoever funded the sixth (SIXTH!) installment in the Wrong Turn franchise, 2014's Wrong Turn 6: Last Resort. This movie is just gross, and not even in any sort of fun way, but the one shining spot is that Matt was able to successfully pawn it off to some sorry bastard at Monster-Mania like a cursed button that a crusty old Gypsy breathed on. Stephen Bay of Analog Jones joined us once again for this film, and then we all took bleach showers. Bring your siblings to this one, because, well, it's a pretty important plot point on this week's episode of Horror Movie Night!