Episode 262: Elvira Mistress of the Dark (1987)
Rundown
We're watching Elvira: Mistress of the Dark again and are pretty sure this movie needs no introduction or explanation for why it was picked. Cassandra Peterson is a treasure and if you don't like this movie, you hate fun, freedom and America.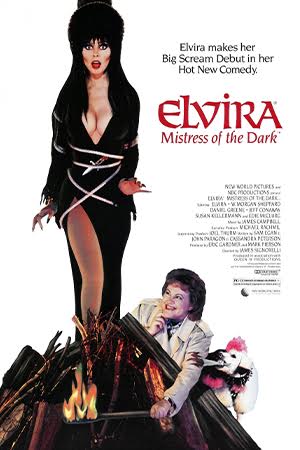 Quote of the Episode:
"You have to look at stuff like Elvira... in the same lens you look at Wet Hot American Summer" -Matt
More Iconic Barely Horror Films
Any other year, we would be knee deep in corsages, tulle, hairspray and prophylactics right about now (aka prom season), but a pandemic can be a real cockblock. So, to either soothe or further irritate that disappointment, we're talking a great prom-ish flick, BUFFY THE VAMPIRE SLAYER (1993). This movie really needs no introduction, so just listen to the episode and quote along with us!
Week 2 of our Horror Musicals month, and we're shredding the dick and fart joke bomb that is TENACIOUS D: PICK OF DESTINY, picked by none other than Brian! Less horror than last week's SHOCK TREATMENT, and with less entertaining music but more heavy metal stars, we struggle to stay on topic as usual, and argue the merits of acoustic rock (they are few). At least we get Tim Robbins' version of MCU Whiplash here, so that's a plus…