Episode 15: Lifeforce (1985)
Rundown
Don't put your clothes back on yet, you have 7 more minutes of screen time in Tobe Hooper's expensive flop Life Force! Adam and Scott lose their minds to the space vampires, while Matt pushes up his glasses and focuses on the facts. The robot from Rocky also makes an appearance, because why not? It's Horror Movie Night!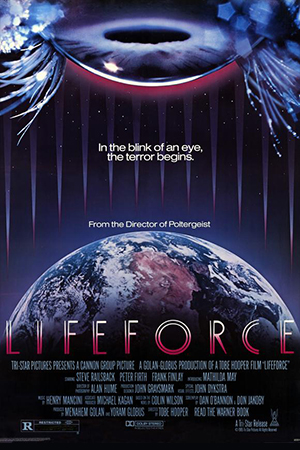 Quote of the Episode:
"It's a good 2 hour movie that would be a great 90 minute movie" - Matt
We're heading back to the killer doll well to talk alien demons, robot laser tag and the diminishing returns of Full Moon franchises with PUPPET MASTER 4! We are joined by our buddy Vincent DeSanti of Womp Stomp Films (director and Jason in the fantastic NEVER HIKE ALONE), who drunkenly agreed to tackle this pick with us at Pop Rock N Horror con earlier this summer. He may have the silkiest voice you've ever heard on our show, so bring a towel, he gon make u sweat.
Close your mouth and open your ears, cuz this week's discussion is Night of the Creeps! Our guest Don waxes poetic about houseboats and his future robot upgrades, while Adam realizes he has handicap blindness. Zombified douchbags in tuxes, reanimated axe murderers, and the cop from Dr. Giggles make an appearance, so leave your human brains (they're for a project) in the basement and join us for Horror Movie Night!
If the creeping dread of another Cold War hasn't quite hit you yet, the HMN boys will get you there with 1983's low budget, killer-alien-in-a-meteorite The Deadly Spawn! This homage (well, more pastiche, really) to the alien monster heyday of the 1950s spent all of its money on creature effects (which are awesome, despite what Adam may think) and then hired people off the street to get eaten by weird hungry tadpoles. Don't go in your swampy, disgusting basement, cuz it's Horror Movie Night, comrade!